Dr. Nguyen Dai Trang, a Vietnamese lecturer at Canada's Centennial College, has launched her second book on President Ho Chi Minh, bringing an insight into his humanism.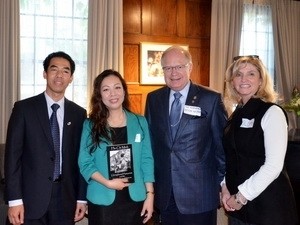 Dr. Nguyen Dai Trang (centre) with her book (Source: VNA)
With many valuable documents and photos featuring his life and career, the 200-page book in English and Vietnamese is expected to provide both Vietnamese and foreign readers with a sounder understanding of the late President and his position in Vietnam's history, as well as his humane aspects which are little known in the West.
Trang said that she wants to delve into issues that President Ho Chi Minh had paid much attention to, including the human being, the social-economic development and environment protection.
Trang's first book, "Ho Chi Minh – Heart and Talent of a Patriot", was released in May 2010. She is the first overseas Vietnamese to write and publish books on the late President Ho Chi Minh abroad, and one of few scholars studying him from his humane aspects.