A concert entitled "Autumn Melody Gala 2011" featuring Vietnamese and foreign artists, will take place at the HCM City Opera House on August 17-19.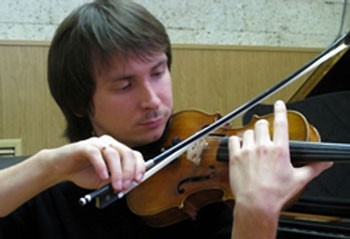 Russian violinist Sergei Sivolgin
Russian violinist Sergei Sivolgin will perform a violin concerto composed by musician Nguyen Manh Duy Linh in the first performance.
Sergei Sivolgin, 28, graduated from the State Music College M.I.Glinka under Vietnamese professor Bui Cong Thanh.
He won the first prize at the International Competition of Musical Performances and Pedagogigs in Vienna in Austria in 2004; and the third place at the Demidov Violin Contest in Ekaterinburg in Russia in 2006.
He is a member of the Moscow National Symphony Orchestra and has performed with the symphony orchestra in Europe, America, Japan and China.
The first night will also present the well-known symphony entitled "Return to Motherland" by Vietnamese composer Nguyen Van Thuong and "Vang Son" by young composer Vu Viet Anh.
The second night will present classical ballet and contemporary dance pieces including Waltz of the flowers, Blue Bird from Sleeping Beauty, Pas de deux from Nutcracker and Magnetic Field. Guest dancers from Belgium and Germany will join the show along with Hanoi artists.
The final night will see the premiere of the opera Cavalleria Rusticana with a concert version performed by the Korean Children's Choir, sponsored by World vision.
Membership to the choir is open to children of grades six to eight, who are selected through a highly competitive audition process involving 300 singers from seven regional preparatory choirs in Seoul. Also known as "Heavenly Voices," the choir has earned prestige and recognition by performing in 4,500 concert tours worldwide and participating in numerous international choral festivals.
In 1978, the choir received international acclaim by becoming the first Asian choir to win first prize in the International Choral Competition hosted by British Broadcasting Corporation. The choir was established in 1960 by Rev. Dr. Bob Pierce, founder of World Vision, an organization created to aid orphans and widows during the Korean War.
This year's Autumn Melody Gala will also attract Vietnamese artists such as Tran Huu Quoc, Ho Phi Diep, Dam Duc Nhuan, Quynh Ly, Diem Trang, Dao Duc Thinh and Eun Young (Korean pianist), Cho Hae Ryong (Korean soprano), Francesca Imoda (Italy) and Samuel Lefeuvre (Belgium).
Tickets for the shows are available at HBSO Office, 3 Phan Van Dat Street, District 1 and at the box office of HCMC Opera House, 7 Lam Son Square, District 1 for VND500, 000, VND350, 000, VND200, 000 for general public and VND60, 000 for students.
The Autumn Melody Gala was first introduced in 2005 and has since received much support from hundreds of local and foreign artists.