Vietnam Institute of Culture and Arts is preparing documents to submit 'Bai Choi' folksongs to UNESCO, for recognition as an intangible cultural heritage in the world in need of urgent protection.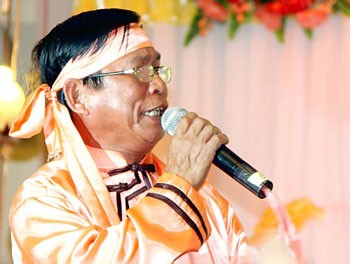 Artist Luong Dang, one of the most famous Bai Choi artists in the country. (Photo: Sggp)
'Bai Choi' is a folk game that originated in the central region and has recently attracted many foreign visitors to the ancient town of Hoi An and southern central region.

'Bai choi' singing while playing cards is an ancient traditional activity during Tet Lunar New Year in the central region.
For a small amount of money, players receive a bamboo card. On the card is a traditional ideograph with a specific name. To start the game, the MC lifts his or her bamboo vase of sticks and pulls one out. He or she then recites a poem or sings a folk song. The last word of the song suggests the name of one of the cards the audience has picked. Players with the right card receive a small silk flag. After nine songs, if you have a card with three right names, you are declared a winner.

In related news, a ceremony was organised on February 18 by the People's Committee of Phu Tho Province at the Hung King Temple to receive the UNESCO certificate recognising 'Xoan' singing as a world intangible cultural heritage.

The United Nations Educational, Scientific and Cultural Organisation (UNESCO) recognised 'Xoan' singing as a world intangible cultural heritage in urgent need of protection in Indonesia, last August.

'Xoan' singing, a traditional vocal art of villages in Phu Tho Province, is usually performed in front of the communal house during village festivals in spring. Based on legends and historical, archeological and social records, researchers say that Xoan singing first appeared a long time ago, at the time of the Hung King dynasty.