Music from the Central Highlands, a children's painting contest, a boat race, picking tea leaves and tea-making will all be part of the Tea Culture Festival to be held in Bao Loc town in Lam Dong Province starting tomorrow.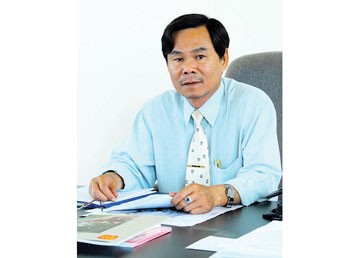 Mr. Pham Quang Tuong, chairman of the People's Committee of Bao Loc Town and head of the organizating board of the Tea Cultural Festival 2008.
Pham Quang Tuong, chairman of the town People's Committee and head of the organizing board, said after the success of the 2006 festival in Da Lat, it moves to Bao Loc, which is a premier tea-growing area in the country.
It mainly aims at honoring farmers and tea companies and promoting Lam Dong's tea varieties, especially B'lao tea, he said.

The festival will feature exhibitions and a promotion program for B'lao, a fashion show featuring a local variety of silk, tea culture nights, and a discussion on how to enhance the quality of Vietnamese tea.

There will also be a procession of flower-bedecked cars, a photo exhibition titled "B'lao – my homeland", and folk games.

The Vietnam Tea Association will host a meeting to discuss tea-planting and -processing techniques in ASEAN member countries.
A beauty contest will feature young ladies involved in the tea industry.
The organizers have called on residents, local organizations, and tea companies to join hands to make the festival a success. Many people have begun to clean and decorate houses and streets and are serving as volunteers.
Beside funds from the provincial budget, Bao Loc is seeking the support of businesses.
Mr. Tuong said a major problem is the shortage of hotel rooms in the town for visitors.
The festival will wrap up on December 7.