Poets around the country are agog with excitement at the upcoming 7th Poem Day on February 9.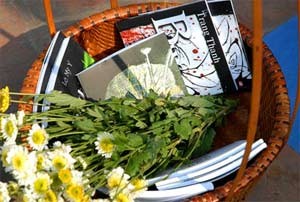 In Viet Nam, poetry books and flowers go hand in hand and, with Poem Day just around the corner, scenes like this one are set to be seen all around the country soon
Monk and poet Thich Nhuan Tam has joined hands with the Mekong Art poetry group to put on a poetry exhibition at Van Hanh Zen Temple in Ho Chi Minh City's Phu Nhuan district February 4.  
To remain open until February 9, the Chinese Lantern Festival, it has on show more than 1,000 books containing poems composed during various periods, besides handmade pottery, calligraphy, and oil paintings.  
The exhibition will also feature discussions between poets and readers and poetry recitals.  
On the day of the Lantern Festival the exhibition will feature a poetry and music show. The poetry group will release their newest book, titled 'Tho oi, cung chay nhe' (poems, let's flow together). 
The city will celebrate 7th Poem Day with the 'Coi nguon – hoi nhap – sang tao' (Original point – integration – creation) festival on February 8 at Bach Tung Diep Park in District 1.  
To be held by the city branch of the Vietnam Writers' Association, HCMC Writers' Association, and SGGP, it is scheduled at 4pm.                            
The next day Ha Noi will celebrate Poem Day at Van Mieu – Quoc Tu Giam (Temple of Literature).  
It will include a forum for young poets in the form of 'Tho 360 do' (360 degrees of poetry).  
The festival organizer, the Vietnam Writers' Association, will also hold a poetry event titled 'Bac Ho va Truong Son' (Uncle Ho and Truong Son) to mark the 40th anniversary of his death and the 50th anniversary of the establishment of the Ho Chi Minh Trail, also called Truong Son Road. 
A highlight will be the display of various books containing poems on Truong Son at the Thai Hoc courtyard.  
Verses will be set to music and in calligraphy, there will be paintings on display as well as a Vietnamese remake of China's Tang poetry.  
This year the Vietnam Writers' Association will organize for the first time a forum for children to share their love for poetry and learn about the experiences of popular poets.