Bboy Gambler (Break Dance) from Korea is in Viet Nam for shows at Hoa Binh Theatre in Ho Chi Minh City on December 5 and 6 and the Vietnam-Soviet Workers' Culture and Friendship Palace in Ha Noi.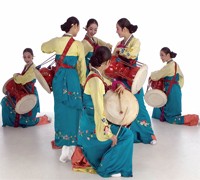 A Korean traditional dance
They will share the evenings with Akgamu, a traditional Korean troupe who will present the nongak nori (farmer's dance), puchaechum (fan dance), ganggangsullae (circle dance), jangguchum (drum dance), minyo (folk song) and jultagi (tightrope walking).
Since winning in international competition in Germany two years ago, Bboy Gambler (Break Dance) has gone from strength to strength and won fans all over the world.
The official reason for the Viet Nam visit is the inauguration of a Korean cultural center in Ha Noi.