The University of Culture Ho Chi Minh City is conducting a six-day training course in preserving historical relics made of paper in co-operation with the Association for the Promotion of Overseas Education and Training of Belgium's French speaking community Wallonia – Brussels.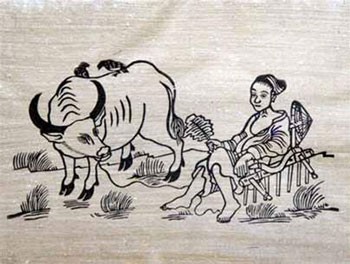 A folk painting titled on display
The October 20 – 25 course for participants from 20 museums throughout the country is led by Prof. Anne Liénardy of the Belgium's La Cambre University.

The course is part of  a project that provides "structural support for preserving, restoring and protecting historical relics" in Vietnamese museums.

The university in District 2 is also hosting an exhibition of Vietnamese folk paintings from October 20 to November 5.

The exhibition features 71 artworks including Dong Ho and Hang Trong paintings, and Vietnamese parallel sentences which are composed during traditional festivals and written on wood panels in pagodas and temples throughout the country.