October 13 is Entrepreneurs Day so the Vietnam Chamber of Commerce and Industry is celebrating by bestowing the title "Patriotic Businessmen" on Bach Thai Buoi, Trinh Van Bo, Luong Van Can and Nguyen Son Ha for their contributions to commerce and the general welfare in the 20th century.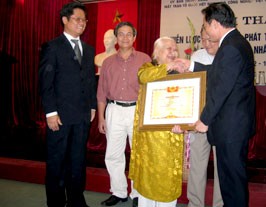 Mrs. Hoang Thi Minh Ho (yellow), the widow of Trinh Van Bo, receives the certificate
After presenting the certificates to the relatives of the long-deceased benefactors, VCCI chairman Vu Tien Loc said that the four businessmen had made great contributions through their work and by giving their fortunes to the government for building up the country.

"They were ideal role models with a patriotic spirit. We are here to show our gratitude, hoping that their spirit will maintain and support us – the next generation of Vietnamese businessmen," Mr. Loc said.

Mrs. Hoang Thi Minh Ho, 93, the widow of Trinh Van Bo, was delighted with the praise heaped on her husband.

"I am happy because Vietnamese merchants are respected by the government and people nowadays. This ceremony doesn't just honor a private individual but the entire circle of patriotic businessman in 1945," Mrs. Ho said.
Bach Thai Buoi, known as the "King of the Waterways", was one of Viet Nam's richest men in the early 1900s.
Nguyen Son Ha, the founder of Viet Nam's first oil paint company, was renowned for his benevolence to his employees and the people generally.
Luong Van Can wrote the first Vietnamese book on doing business and becoming wealthy.
Trinh Van Bo, who owned many weaving shops, gave away 5,147 taels of gold to support the nation's development in 1945.