Monk Thich Hien Chon, deputy of Nun at An Phu Pagoda (24 Chanh Hung, district 8, Ho Chi Minh City) says that the first pair of candles he made was recorded in the Guinness Book in 2004. The second pair of candles is nearly twice the weight. The first pair was 1, 4 meters high and weighed 1, 800 kg. The candles were 0, 8 meters in diameter at the base and 0, 6 meters at the trunk. The newly-made candles are 3.8 m tall with the same diameter as the first pair.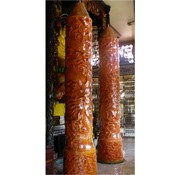 The second pair of candles (Photo:U.Phuong)
Monk Thich Hien Chon adds that it took him one whole day to heat 2,080kg of wax brought from China. He and his associates took turn to pour wax into the mould continually for as many as 55 days to complete the engraved dragons patterns on the candles.