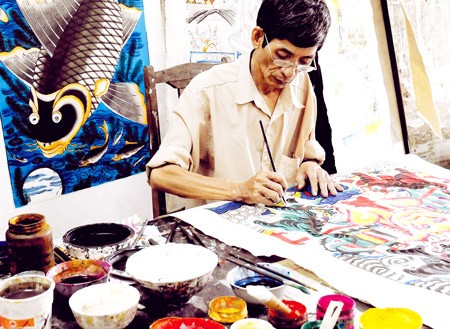 Le Dinh Nghien, the only surviving artist of Hang Trong painting. (Photo: SGGP)

Le Dinh Nghien, an artist of Hang Trong paintings woefully thinks of the bleak future of Hang Trong paintings.
He currently restores paintings at the Vietnam Fine Arts Museum and is due to retire at the end of the year and is uncertain whether the Museum will renew his contract. He maintains he will remain passionately devoted to making Hang Trong paintings till the last days of his life.
Mr. Nghien has unexpectedly found fame within the last 10 years, as the media continues to hound him. He is clearly the only surviving artist of a painting genre which once was famous in the capital city.
He is a calm and composed man until someone mentions the painting genre that originated from the Hang Trong, Hang Non, Hang Hom and Hang Quat streets of Hanoi City in days gone by. He begins to speak passionately about the art form and claims that it is not fame he is hankering for, but the recognition of a painting genre that is on the verge of being completely lost.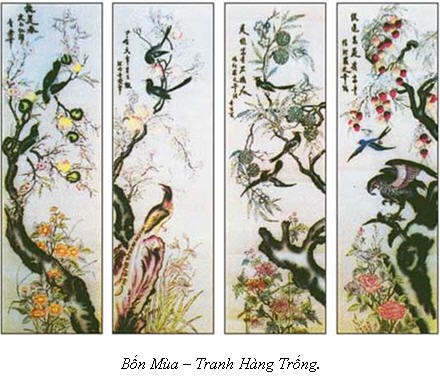 Tu quy (Four seasons). (File photo)
Born in a traditional family of painters in Binh Vong of Ha Tay Province, Mr. Nghien started painting in Hang Trong with his grandfather and father about half a century ago. None of his siblings followed the family profession. He now has two sons but only his youngest son is showing interest in adopting this profession.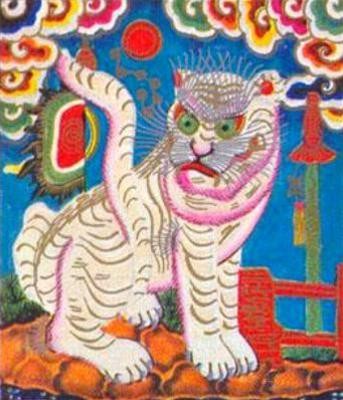 Bạch hổ (White Tiger), a popular picture of Hang Trong painting. (File photo)
Hang Trong paintings were mainly made in Hang Trong and Hang Non streets. Some researchers claim that Hang Trong paintings first appeared 400 years ago and developed into a strong art form by the end of the nineteenth and beginning of the twentieth century. The two common themes in Hang Trong paintings pertain to the spiritual and decorative, both desirable during the Tet season. The technique of Hang Trong painting differs from other genres of traditional paintings like Dong Ho and Kim Hoang styles as craftsmen use the technique of half printing and half painting. The craftsman starts with woodblocks to print the black outlines then draws the details and finally colors the painting by hand. Hang Trong paintings are mainly handmade and the process of coloring requires great skill. Colors used for Hang Trong paintings are similar to other traditional paintings in that the decorative ones are bright and colorful whereas those used for worship use subtle and serene colors.
Mr. Nghien remembers the old days when the sidewalks displaying Hang Trong paintings were highly patronized. Customers came exclusively to buy paintings like tranh Cong (Peacock) and tranh Ca (Carp) or a set of paintings like Tu binh (Four female musicans) and Tu quy (Four seasons). During that era Hang Trong paintings were integral to the family altar in Hanoi, along with fatty meats, pickled onions and spiritual scripts on red paper.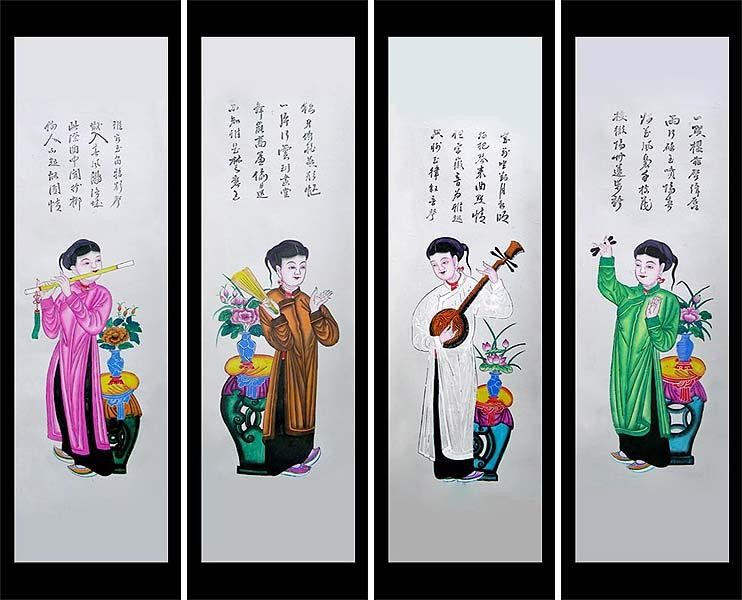 To nu (Four female musicans). (File photo)
Every year he continues to sell hundreds of paintings. The paintings painted in the traditional style may cost up to VND1 million whereas more intricate paintings may be worth tens of millions of Vietnamese dong. However, he relies on his wife's income to meet his expenses but has no regrets about this but feels happy as more people show an interest in this genre of traditional paintings.
Not only do old people seek Hang Trong paintings but also some young people as well. Some young customers have commissioned him to make a full collection of Hang Trong paintings which comprise of hundreds of paintings. When meeting such customers he feels happy to learn that there still exist patrons of this lost form of art.
Le Dinh Nghien has helped preserve this art form for the last 50 years, still maintaining it into the 21st century. Hang Trong paintings were exhibited in the USA in 2005 and were displayed in festivals for traditional trade villages in the country. However, Mr. Nghien remains woefully concerned about the future of Hang Trong paintings.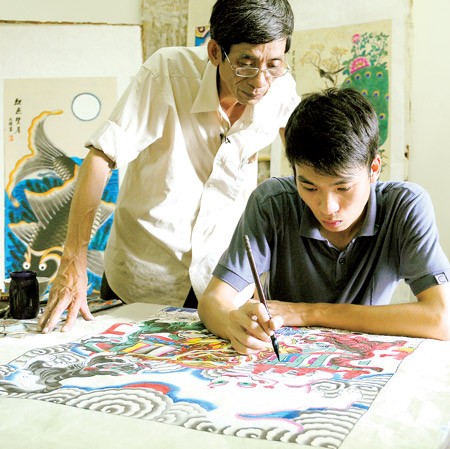 Le Dinh Nghien and his youngest son Le Hoan. (Photo: SGGP)
The Vietnam Fine Arts Museum takes great credit in conserving and presenting Hang Trong paintings to the world but this traditional art form needs wider attention by authorities to preserve the skill for posterity. On his part, Mr. Nghien plans to pass every trade skill to his youngest son Le Hoan, in the hope that he will carry on his family's profession and keep the genre of Hang Trong painting alive.