Thousands of people attended the opening of the two-day Book and Reading Culture Festival 2012 which was kicked off at the Temple of Literature in Hanoi on Saturday.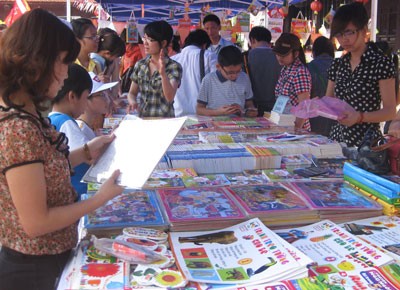 Crowds at the Book and Reading Culture Festival 2012 in Hanoi
The festival organised over Saturday and Sunday has over 40 bookstores presenting a large volume of books in various categories.
The section on literature has a stall on works dedicated to the late President Ho Chi Minh, like Tam va Tai (Heart and Talent), Bi quyet thanh cong cua Ho Chi Minh (Secret of successes of Ho Chi Minh), or Bac Ho thoi nien thieu (Ho Chi Minh's childhood).
Many valuable and rare Vietnamese books are also on display. These are original works and few are even a century old, having great cultural and historical value.
Among them is 'Hoang trieu Ngoc Diep', a handwritten set of books on the biography of nine Nguyen Kings, with several documents that have never been seen before.
The festival also has various activities like releasing of balloons with the message 'Reading for a better future', a book arrangement competition, seminars, exchanges with researchers and scholars, and a mobile library for children.