The 8th Ho Chi Minh City Book Festival at Le Van Tam Park, District 1 attracted over one million visitors from March 24-30.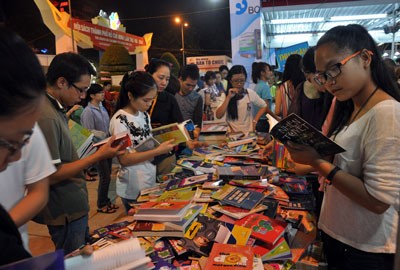 Readers visited book festival 2014 in HCM City. (Photo: Sggp)
The event's revenue from book sales was more than VND 38 billion. FAHASA Company profited VND 12 billion.
Publishing houses Tiki, Phuong Nam, Vinabook and Tre Publisher also had their highest turnover at the book fest.
Bestselling books were by Anh Khanh, Nguyen Nhat Anh, Nguyen Ngoc Tu, Hamlet Truong, Iris Cao, Jun Pham, Dan Brown, Gosho Aoyama.
The festival displayed over 500 stalls from local and foreign publishers with more than 20 million copies of 200,000 titles. There were many promotions and discounts during the event.
Seminars, speeches from authors and readers, exhibitions on rare and valuable works, story time for children were presented during the event.
.