The Department of Information and Communication inaugurated the first Book Reading Festival at the Labor Culture Palace in District 1 in Ho Chi Minh City on April 20.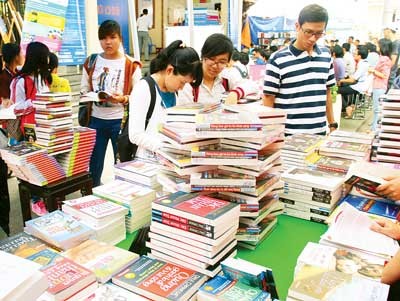 Young readers at the first Book Reading Festival in HCMC (Photo: SGGP)
The Festival is being hosted by Ho Chi Minh City for the first time with the sole aim to promote the habit of reading among young and old alike. The event will also mark World Book and Copyright Day--April 23.
On the first day of the Festival, several activities to propagate the reading culture, such as arranging books and drawing on picture books, were organized.
Books on past wars, maps of Vietnam showing the country's sovereignty over the islands, are a few of the many attractive features that drew a lot of visitors.
The Festival has also introduced audio books for sightless children, and more than 2,000 books have been collected by the organizers to reach the remote and island areas.
The Book Reading Festival will end today, April 21.
Related article:
First-ever 'Book Reading Festival' to kick off in HCMC