The Books for rural areas of Vietnam programme, carried out by The Center for Knowledge Assistance and Community Development (CKACD), has been awarded the 2016 UNESCO King Sejong Literacy Prize.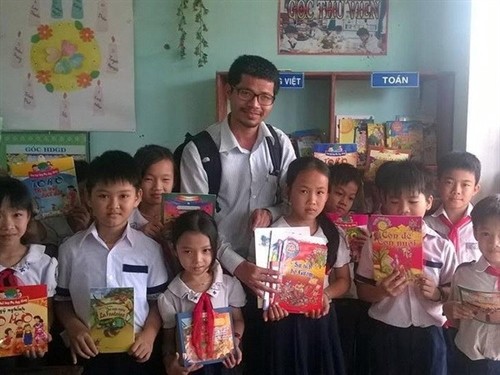 Nguyễn Quang Thạch poses with children holding books received through the Books for rural areas of Vietnam programme. The programme has recently been awarded the 2016 UNESCO King Sejong Literacy Prize. Photo vietnamplus.vn
The programme is part of a campaign to encourage reading in Việt Nam's rural areas by bringing books to libraries and bookshelves in those areas, with an aim to motivate children to read more books and improve their general knowledge.
Thạch, 41, who is the founder of the Centre for Knowledge Assistance and Community Development, spent 19 years studying library design and applying library models, with his first three libraries in 2007.
To date, the number has increased to more than 9,000 small libraries in 26 provinces.
It will be expanded throughout the whole country by 2020 under the support of the Ministry of Education and Training and the Ministry of Culture, Sports and Tourisms as well as the engagement of millions of local people and Vietnamese overseas.
In 2010, he walked 1,750 kilometres from Hà Nội to HCM City to raise funds and awareness to set up libraries for 15 million rural children.
The programme has also provided hands-on training and collaborative teamwork to operate the libraries and create activities to encourage reading.
He introduced the programme to the Indonesian Ministry of Education and Culture and educators in Malaysia, Singapore and the Philippines.
"Before I even heard that the programme had won I had sent a letter to many Indian organisations explaining the benefits of the idea. I want other countries that have large poor populations with little access to books to apply my library system too. I want to walk in India to call Indian people to build libraries for all children," he said on UNESCO's website.
He added that the seed was sown when he was a child and that the reading habit is cultivated in families. In his family, his grandfather and father had a large collection of books and he grew up knowing how important they were for increasing knowledge.
"I want to continue my ancestors work. I want all children in Việt Nam to have books to read."
There remain 758 million adults who cannot read or write a simple sentence in the world, two thirds of them women, according to the UNESCO Institute for Statistics.