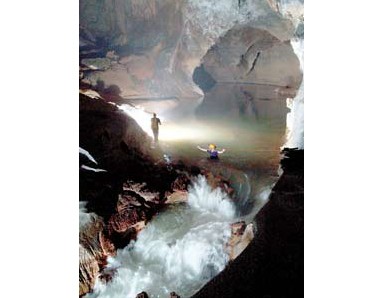 British explorers explore Son Doong Cave. (Photo: SGGP)

The British Caving Association confirmed on April 22 that a cave in Phong Nha – Ke Bang World Natural Heritage site in Quang Binh Province is the world's largest after some of its members explored it during a one-month trip to the area.
Son Doong cave, discovered by a local 18 years ago, is more than 200 meters wide, 150 meters high, and at least 6.5 kilometers long, though the explorers said they were unable to explore it fully.
It is much larger than Deer Cave in Malaysia, currently considered the world's largest, an explorer said. Deer is 90 meters wide, 100 meters high and 2 kilometers long.
The explorer added that the Quang Binh cave has beautiful stalactites and stalagmites that are not seen anywhere else.
The British team suggested to the local authorities not to develop Son Doong Cave as a tourism site immediately to preserve its natural beauty.
Howard Limbirt, the team leader, said his team would return to Vietnam with more advanced equipment in 2011 to explore further.
During their one month trip, the explorers also found 20 new caves in the province's Minh Hoa and Bo Trach Districts.