Winners of the ninth Bui Xuan Phai – For the Love of Hanoi Awards were announced at a ceremony in Hanoi on September 8.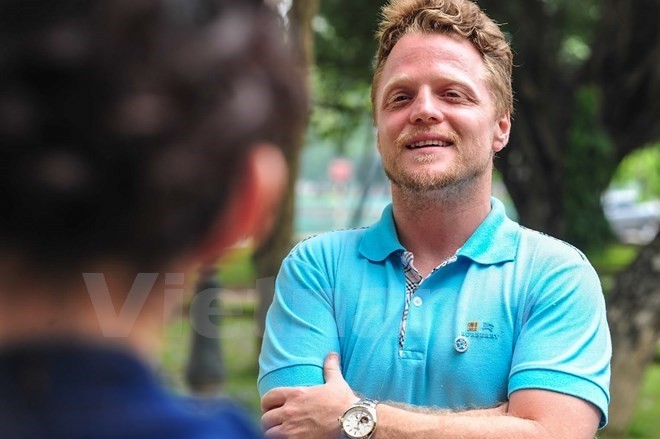 Job Prize presented to James Joseph Kendall, a US national, and the Keep Hanoi Clean team.
The awards were initiated by the Vietnam News Agency (VNA)'s Sports & Culture newspaper and the family of the late famous painter Bui Xuan Phai (1920-1988) in 2008 to honour his career and spread his love for the capital city.
The awards were classified into the four categories: Grand Prize, Idea Prize, Job Prize and Work Prize.
This year's Grand Prize went to 98-year-old photographer Le Vuong who has spent 80 years taking photos, many of which featured Hanoi, and won a lot of national and international prizes.
The previous prizes were presented to Nguyen Vinh Phuc, a researcher into Hanoi, writer To Hoai, Prof. Phan Huy Le, guitarist Van Vuong, photographer Quang Phung, and researchers Vu Tuan San and Giang Quan.
VNA General Director Nguyen Duc Loi handed over the Idea Prize to Chairman of the Hanoi People's Committee Nguyen Duc Chung as the award is for the initiative to green the city with 1 million trees and 25 more parks in the next five years.
Speaking at the award ceremony, Chung promised that he himself and other leaders of the municipal People's Committee will exert all-out efforts to realise the idea.
The Job Prize went to James Joseph Kendall, a US national, and the Keep Hanoi Clean team to honour their contributions to environmental protection in the city.
Kendal and the volunteers often clean canals and drains in Hanoi during weekends, which received appreciation by Chairman of the municipal People's Committee Chung and locals.
French singer and musician La Grande Sophie, who wrote the "Hanoi" song, and fine arts researcher Phan Ngoc Khue, who wrote a book on Hang Trong paintings, together grabbed the Work Prize.