Cai Luong (southern folk opera) will be performed with English language translation by the Hanoi Cai Luong Theatre at the Chuong Vang (Golden Bell) in Hanoi on February 17-18, and expects to draw a large number of foreign tourists.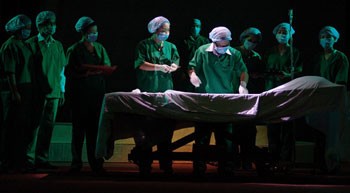 A cai luong play performed by the Hanoi Cai Luong Theatre
Actors and actresses will perform the opera in the Vietnamese language, while foreign visitors can hear an English language translation on headphones, said Mrs. Nguyen Thanh Van, deputy director of the Hanoi Cai Luong Theatre.
The English translator is an expert both in the language as well as having a deep knowledge of Cai Luong, which will enable foreign audiences to understand the traditional art form better.
The theatre will also present to visitors short dramas, Cham dances, Quan Ho duet singing and other kinds of folk music.
Hanoi Cai Luong Theatre has cooperated with travel companies to bring tourists to the stage and enjoy Vietnamese culture.