The 'Meritorious Artist' Vu Linh is in a hurry to complete final preparations for his show 
'Nhat long - luc phung' ('One dragon-Six phoenixes') at Hung Dao Theatre, district 5, February 20. He is performing together with six female colleagues.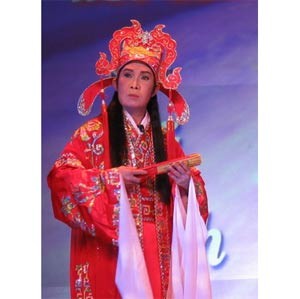 The 'Meritorious Artist' Vu Linh (Photo: Tuoi Tre Newspaper)
The idea came to Vu Linh when he thought of a show in which he can meet and perform together with all his female colleagues. The idea became came into fruition after he received word from overseas colleagues that they will come back for his show.
The actresses are Thanh Thanh Tam, Phuong Hong Thuy, Thoai My, Thanh Ngan, Trinh Trinh, and Tu Suong.
Several extracts from the popular 'cai luong' (modern Vietnamese folk opera) plays will be performed: 'Giu ao bui doi' ('Turn back to good life'); 'Lan va Diep' ('The love story of Lan and Diep'); 'Tuong cuop Bach Hai Duong' ('The uncatchable thief'); 'Luu Kim Dinh' ('Female General Luu Kim Dinh'); and 'Tinh su Duong Quy Phi' (Love story of Yang Guifei).
As for future plans, Vu Linh said that right after the show he would join hands with the cast to direct the play 'Hoang de Quang Trung' ('Emperor Quang Trung'), which will welcome Southern Liberation Day, April 30.
Later, Linh will direct another play, 'Tan Thuy Hoang' ('Qin Shi Huang').