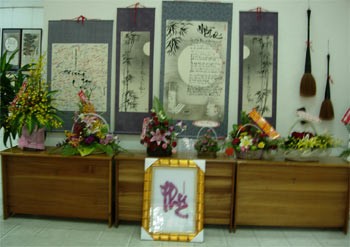 At the calligraphy exhibition (Photo:KK)

Calligraphy enthusiasts can contemplate more than 200 calligraphy drawings at the Ho Chi Minh City Exhibition House from Oct 8 to 15.

"Moon and Love", as the exhibition is called, brings knowledge and diverse thoughts of the calligraphic arts in the Chinese and Vietnamese languages.
More than 30 artists from six calligraphy clubs are contributing their works. The clubs of Lac Hong, Giac Ngo, But Viet, Tao Dan and so on are in Ho Chi Minh city; the others are in Nha Trang and Da Nang.
The artists are taking the opportunity to compare notes and develop their specialized aesthetic skills. They are also making plans to form a calligraphy association based in Ho Chi Minh City.