A week of Vietnamese art, culture and fashion is in store for the residents of Cambodia's capital, Phnom Penh, starting on Monday next week. Vietnamese Cultural Days, as the event is called, will feature folk dances and songs, traditional music played on traditional instruments, a fashion show, circus acts and much more.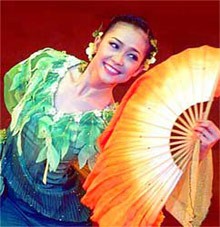 Dancer Linh Nga
Among the performers will be the acclaimed Bong Sen Traditional Music and Dance Theater, the Ho Chi Minh City Circus, Tran Huu Trang Theater, singers Thanh Thuy and Kasim Hoang Vu, and dancer Linh Nga.

In the fashion show, designer Vo Viet Chung will present his Mo Ve Chau A (dreaming of Asia) and Hoa Tiet Phuong Nam (southern patterns) collections.

Away from the stage, there will a painting and sculpture exhibition at Chak Tumuk Meeting Hall and screenings of Vietnamese productions at Kikirum Cinema and on APSARA Radio and Television, TVK TV and Bayon TV.

Timed to coincide with Viet Nam's National Day, the event is being organized by the Ministry of Culture and Information, the People's Committee of Ho Chi Minh City and the Vietnamese consulate in Phnom Penh.