Archaeologists from the Southern Social Science Institute have unearthed four brick kilns dating back to the 4th to 8th centuries AD at the renowned Cat Tien dig in Lam Dong province. The kilns are located in a vast field that abuts a stream flowing into the Dong Nai River. The base of the largest measures 21 by 6 meters.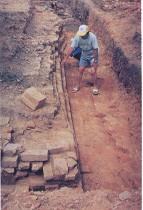 Excavation site of Cat Tien relic
It's the eighth major excavation at Cat Tien, and like before the team of experts is led by Dr. Bui Si Hoang and assisted by the Lam Dong Museum.

Archeologists first came across Cat Tien and its treasure trove from the past back in 1985 as they were traversing Viet Nam trying to trace the land's ancient history.

Above all, they unearthed a complex of temples near the upper reaches of the Dong Nai River at the foot of the South Long-Mountain Range (Truong Son Nam).

As far as they can tell, since no writings have come down to us from that time and place, this was a religious center of Brahmanism from as long ago as the seventh century AD.

Ever since Cat Tien's discovery, each announcement of a new find by the archeologists has startled and amazed Vietnamese and foreign historians alike, as well as the general public.

It is the first ancient religious capital to be discovered in Lam Dong and indeed the Central Highlands, and is extremely significant in the study of early civilization in the south of what is now Viet Nam.

Dr. Hoang and his team are continuing their excavations and confident of making further great discoveries.
Link:
http://www.dlu.edu.vn/library/upload/book_dir/Dalat/vhnt/lamdongTK21/vietnam/bai26.htm

http://www.lamdong.gov.vn/cdrom/vhnt/lamdongTK21/English/lesson26.htm