The Performing Arts Department under the Ministry of Culture will mete out severe punishment to all celebrities who generate public controversy by wearing provocative and revealing outfits, get distasteful pictures taken and indulge in cheap actions, said Vuong Duy Bien, head of the department.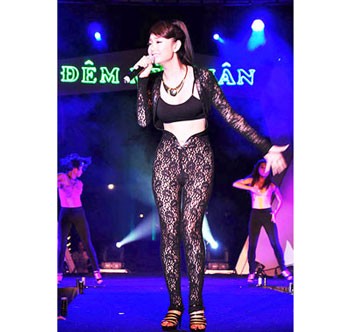 (File) Singer Minh Hang in a provocative jumpsuit.
Documents submitted to the department for acquiring a performing licence by the artists are clear and explicit as to the content and subject of the performance. However, the problem arises at the time of performance itself, said Bien.
The most effective solution is to suspend their licence and ban appearances on any public media. A football player is suspended for violent behaviour and dishonesty in 1-2 matches a year. This not only hits his pocket, but also affects his reputation, Bien added.
New regulations for performing artists should be created and applied this year, he said.

In related news, the Ministry of Culture, Sports and Tourism announced they would assign the task of deciding whether or not to strip the title and crown of Miss Vietnam 2006, who recently generated public controversy on her leaked photos on the Internet. She wore a traditional costume but posed provocatively.