The 12 cellists of the Berlin Philharmonic, one of the worlds's leading ensembles, will arrive in the country for performances at the Hanoi Opera House on July 10 and July 11 at the Ho Chi Minh City Opera House.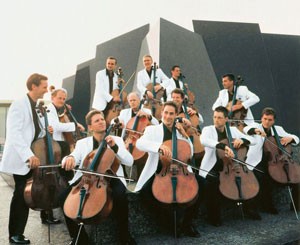 The 12 Celists of Berlin Philharmonic
Whether they play the classics, jazz, tango or avant-garde, listeners will likely be fascinated by the wide range of unique and intoxicating timbres that these twelve cellos can produce, and their mixture of seriousness and humor, of depth and lightness, appeals to audiences of all ages.

They accompany German presidents on official travels, and the emperor of Japanese welcomes them regularly. Their appearances in Hanoi and HCMC will be one of the highlights of "Germany in Vietnam 2010."

Free tickets are available at Goethe-Institute of Hanoi, located at 56 Nguyen Thai Hoc Street, Ba Dinh District; and in HCMC at 335/4 Đien Bien Phu Street in District 3.