An inaugural ceremony of the Kon Klor Nha Rong (communal house built on stilts) was held in Kon Tum Province on June 19.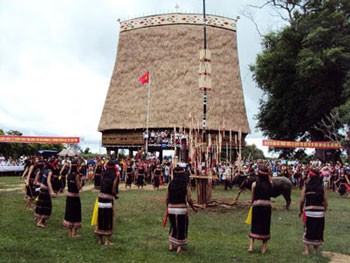 The inaugural ceremony of the Kon Klor communal house in Kon Tum Province.
The Kon Klor is regarded as the most beautiful and biggest communal house in the Central Highland.
The communal house was rebuilt on the same foundation of an old communal house which was burned down last May.
The house has been built with wood and bamboo at a total cost of around VND1.8 billion (US$85,000). It is 17m long, 6m wide and 22m high with 14 pillars.
It was reconstructed by artisans and the Ba Na ethnic group and took one year to complete.