The Vietnam Women's Union will organize "The Spring of human feelings" show featuring cai luong actors and singers in Ho Chi Minh City on December 13 to raise money to build houses for disadvantaged women.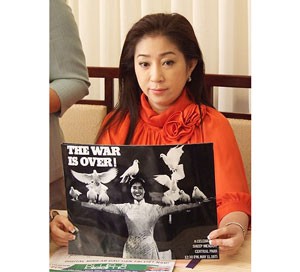 Cai luong actress Thoai My takes part in a press conference of the concert on December 8
Cai luong stars like Diep Lang, Vu Luan, Trong Phuc, Le Tu, Thanh Thanh Hien, and Thoai My will be joined by singers Thu Minh, Cam Ly, Dan Truong, Hien Thuc, Ho Ngoc Ha, My Le, Ngo Thanh Van, Mat Troi Moi (New sun) band and others.
Director Hoa Ha, masters of ceremony Thanh Bach and Trinh Kim Chi, and some dance groups will complete the ensemble.
There will also be an auction of a gemstone painting "Hai Ba Trung" (Trung sisters, who successfully repelled Chinese invasions and are regarded as national heroes) and a propaganda poster "The war is over" done by an American journalist on a meeting of Americans supporting Vietnam at the Central Park in New York in 1975.
Nguyen Thi Thanh Hoa of the Vietnam Women's Union said a campaign for disadvantaged women nationwide has so far raised nearly VND13 billion.
The concert organized at the Hung Dao Theater will be broadcast live on VTV1.