Composer Đặng Tuệ Nguyên will debut a new musical work combining Western piano and Vietnamese chèo (traditional opera) on October 29 at Công Nhân Theatre.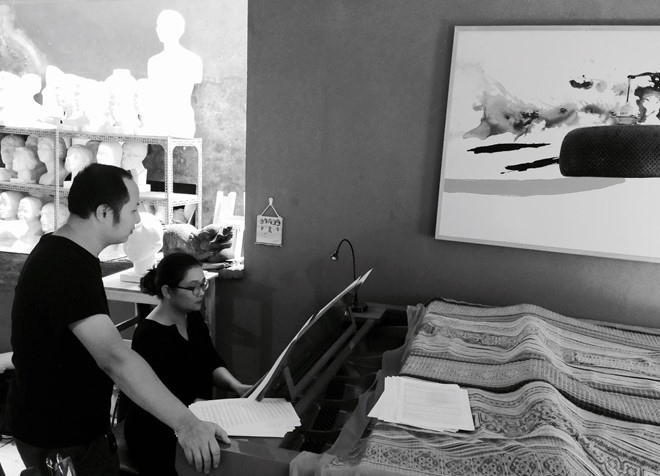 Musical bridges: New music composition entitled Gió by composer Đặng Tuệ Nguyên will be played by pianist Phó An My. — Photo baomoi.com
The suite, Gió (Wind), includes five pieces: Chạng Vạng (Dusk), Oan (Injustice), Khát (Thirst), Ru Kệ (Lullaby) and Hóa (Transformation), each performed by pianist Phó An My, People's Artist Thanh Hoài, percussionist Nguyễn Văn Quý; flutist Lê Hữu Trung and fiddler Xuân Hải.
"The suite is inspired by classical chèo opera Quan Âm Thị Kính," said composer Nguyên.
"It characterises two female archetypes: Thị Kính and Thị Màu. One symbolises patience and the other symbolises desire for love and life".
The work is the final piece of his project entitled West East Dialogue which he and pianist My have carried out since 2006. The project aims to combine piano and Vietnamese traditional music genres such as tuồng (classical opera), hò Huế (Huế singing), hát cọi (Tày ethnic singing) and chầu văn (văn singing). The project has caught the attention of critics and audiences.
Gió marks the final leg of the cherished ten-year project.
The one-hour suite will open with a piano solo performance accompanied by People's Artist Thanh Hoài's vocal. She will also sing chèo in the second and third sections.
"I'm lucky to work with talent artists like Nguyên and My," said Hoài. "Each piece features human different emotions. I don't have any difficultly singing with piano. Nguyên is very skillful at combining tradition and modernity through musical harmony".
Nguyên studied piano and music composition at the Việt Nam National Academy of Music. He earned a Master of music in composition in 2008. His first work for cello and piano entitled Impromtu put him in the list of top ten young musicians at the Asian Music Festival in 2012.
The concert will begin at 8pm tonight at Công Nhân Theatre, 42 Tràng Tiền Street and will also take place December 3 at GEM Centre, No8 Nguyễn Bỉnh Khiêm Street, HCM City.