Chinese actor Liu Xiao Ling Tong greeted Vietnamese audiences and media to introduce his book "Journey to West" in Hanoi on April 6.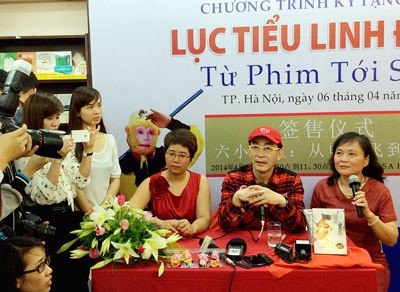 (Photo: SGGP)
Many fans crowded to greet him upon his arrival in the city. The actor introduced his novel and autographed books during the visit. The novel will be incorporated into the classic Chinese drama, "Journey to the West" filmed in 1986.
This is his third visit to Vietnam and is completely in love with the beauty of the country, said Liu. He expressed desire to take role as Vietnamese Cultural Tourism Ambassador in China.
I would like to introduce Vietnam's beautiful landscape and culture to the Chinese people, said Liu . He also hopes more Vietnamese will visit China.
I often write about Vietnam in my personal blog and Weibo blog, said the actor. As the ambassador in China, he is confident that he will further strengthen relations between the two countries.
Liu Xiao Ling Tong is popular as the Monkey King (Sun Wukong) in "Journey to the West" television series.