Nearly 1,500 students of Nguyen Thai Hoc Primary School warmly greeted Chinese Malaysian actress Michelle Yeoh in a traffic safety campaign at the Reunification Palace in Ho Chi Minh City yesterday morning.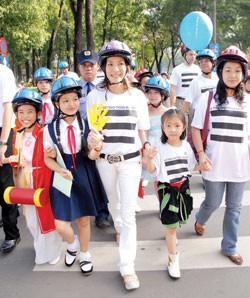 Michelle Yeoh takes part in a parade together with students of Nguyen Thai Hoc Primary School.
The actress instructed students on how to use helmets safely. She also took the role of a judge in a game about traffic signs and offered gifts to students with right answers.
After a musical performance by the school students, Yeoh led a parade to promote traffic safety campaign and encourage motorbike riders, especially children, to wear helmets for their own safety.
"The bustling air of Ha Noi and Ho Chi Minh City and the lovely children gives me a cozy feeling when I think of Viet Nam. I hope that Vietnamese children and their parents will wear helmets when they take a ride on motorbikes to keep their lives safer and better," she said.
In the evening, the movie star took part in a meeting on traffic safety for Vietnamese children at the Park Hyatt Hotel together with representatives of WHO, the Asia Injury Prevention Foundation (AIP) and National Traffic Safety Committee.
Viet Nam has the largest number of motorbikes in the world with more than 20 million on streets every day. According to the AIP, 1,400 children are hurt every month in traffic accidents in Viet Nam, 400 fatally.
In partnership with the Vietnamese government, the Asia Injury Prevention Foundation will try to combat the growing traffic crisis in Viet Nam by popularizing traffic laws, fining motorbike riders who do not have children under 14 wearing helmets, and many other activities.
Yeoh left later for Hong Kong, not staying here for some days as originally planned. She arrived in the city on October 29.


Related articles:
Movie Star Promotes Traffic Safety in Viet Nam
Michelle Yeoh Promotes Traffic Safety in Ha Noi