The Chinese-Vietnamese Truong Han Minh joined hands with the Ho Chi Minh City Fine Art Association, district 3 to open an exhibition of his paintings and calligraphy February 12.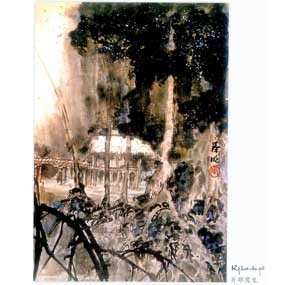 The water-color 'Ky hoa Can Gio' ('Sketching Can Gio') by Truong Han Minh (Photo: SGGP)
Minh's work is inspired by the Chinese form of art. 
76 paintings Chinese water-colors and four Chinese calligraphies by Minh were put on display.  
The paintings let viewers open their imagination to various aspects of life, including landscapes, flowers, birds, fishes, and the four seasons.  
Artist Minh gets most of his inspiration for his artwork from several beautiful sights in Vietnam. This can be easily seen in the variety of his works, like 'Xuan Sa Pa' ('Spring in Sapa'), 'Thac Ban Gioc' ('Ban Gioc waterfall'), 'Nha o Muong Khuong' ('Houses in Muong Khuong') and 'Sac thu ho Hoan Kiem' ('The beauty of Hoan Kiem lake in autumn').