New Year celebrations, featuring numerous exciting cultural activities are being held at 23-9 (September 23) Park and along Pham Ngu Lao Street, the tourist hub of Ho Chi Minh City, from December 26 to January 1.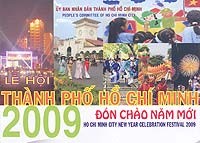 A poster for New Year Welcome Celebration
Many activities are taking place and many tastes catered for.

The main street running along the park presents 'Art Road' to visitors, where traditional handicrafts will be on show and traditional folk games are entertaining a new generation of children.
Calligraphers and sketch-artists are on hand to create lucky words and portraits for strollers.
Armed with a video camera, a Vietnamese-Australian, Hoang Trong Hai, records his family enjoying the activities. He said that he has just come home for the upcoming Tet holidays. His children, on their first visit, were enjoying the folk games.
The opening and closing ceremonies, musical performances and fashion shows will take place on the main stage.
The highlight of the events is a floating stage featuring traditional music.
Children are also catered for with performances of martial arts, music, circus acts, short shows, aerobics and many other events.
People can also enjoy walking through the colorful seasonal lights, connecting September 23 Park, Nguyen Thi Nghia, Le Loi, Nguyen Hue, Dong Khoi and Le Duan in the heart of city.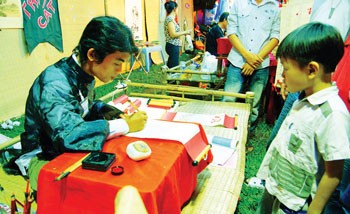 The file photo shows a calligrapher writing lucky words for visitors on a New Year's eve.
Over 200 artists, singers and dancers are participating in the events. Many are from Bong Sen Traditional Music and Dance Theater, Tran Huu Trang cai luong (southern folk opera) theater, Ho Chi Minh City music and dance center, and Professional Look Model Company.

The organizers, including HCMC Department of Culture, Sport and Tourism, city's Ho Chi Minh communist youth union and Saigontourist, have ensured security and safety during the festival. The public's awareness of the local environment and traffic safety has risen remarkably compared with last year.

Other events taking place include activities in the backpacker's district on De Tham- Bui Vien - Pham Ngu Lao. International visitors at Tan Son Nha airport will be greeted by Kylin-lion and dragon dancers. Art performances will be held at industrial zones, including Linh Trung, Binh Chanh, Tan Binh, District 12's cultural center and Go Vap District's Gia Dinh Park.
Performances of music and light art, 'New year moment', will be held on Nguyen Hue and Mac Thi Buoi streets on New Year's Eve.