Many entertainment venues across the city are busy and crowded these days with fun and exciting activities and entertainment programs for children on their special day, June 1.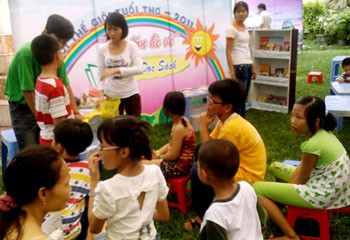 Children enjoy a reading contest in the "Children's world" festival in Ho Chi Minh City Culture House. (Photo: Sggp)
The Southern Branch of Vietnam Child Rights Protection Association has coordinated with several organizations to organize "Children's world" festival in Ho Chi Minh City Culture House from May 28 to June 1.
The event features many exciting activities such as music performances,  circus, children fashion show, food fair, games, good writing, painting, story-telling contests and a scholarship award ceremony for disadvantaged students.
Ho Chi Minh City theaters are preparing several new plays featuring magic and fairy tales for children during the long summer vacation.

Idecaf theater will present a play titled "An Ly and Ice Genie" at Ben Thanh Stage Theater from May 27 to June 26. Taking part in the play will be well known artists like Thanh Loc, Huu Chau, My Duyen, Dai Nghia, Le Khanh and Đinh Toan. More than 2,000 tickets will be donated to disadvantaged children in the city.

Hoang Thai Thanh Stage Theater expects to attract children with the play "A stray ant" starting May 29. Famous actors and actresses Thanh Hoi, Ai Nhu, Van Anh, Kim Hien and Quoc Thinh will participate in the show.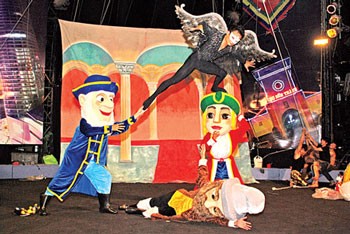 A still from the play "Gulliver's Travels". (Photo: Sggp)
Ho Chi Minh City Circus Art Troupe and HCM City Puppetry Art Troupe have joined hands to stage the play titled "Gulliver's Travels" at the September 23rd (23/9) Park from May 28 to June 5.

Children shows will be performed at theaters such as Thu Do, Superbowl, Ben Thanh and Kim Chau.
Dam Sen and Suoi Tien will offer thousands of presents to children on June 1.

Hollywood cartoon blockbusters Kung fu Panda 1, Madagascar 2 and Ice Age 3 will be screened at BHD Star Cinema in Ho Chi Minh City until June 2. Tickets are priced at VND40, 000.
The first 400 cinema-tickets sold for Kung Fu Panda 2 in 3D on Children's Day will receive an invitation to join a kids' party at 5 p.m. at the cinema complex on Floor 4, Maxi Mark Supermarket, 3C, 3 Thang 2 Street on June 1.
The party will include circus performances, meeting with famous artists, photo sessions and many gifts.
Children under 15 will receive colorful balloons and free entry at Nguyen Du, Nguyen Trai and Tan Binh Galaxy cinemas on June 1.

The Ho Chi Minh City Book Distribution Corporation (FAHASA) will give thousands of gifts to disadvantaged children at its 60 bookstores.

The "Free reading week" is being held at Fahasa Tan Dinh bookstore from May 26 to June 3.

Fahasa will also organize book fairs in Can Gio District's Can Thanh Park and Culture Center in Hoc Mon District, for children in remote areas from June 2 to 12.

Another program featuring screenings, painting contest and more is being held by Phuong Nam Cultural Corporation at its bookstores in Hanoi, Ho Chi Minh City, Can Tho, Nha Trang and Hue from May 28 to June 5.