The seventh annual 'Taste of the World' Culinary Festival will be held at the September 23 Park in Ho Chi Minh City from December 12 to 16, with world-class Master Chef Martin Yan as guest of honor.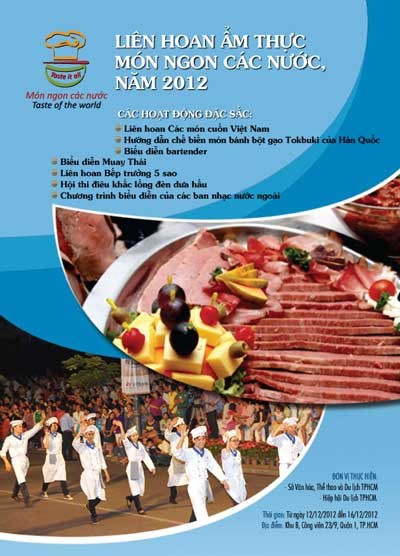 Poster promoting this year's 'Taste of the World' Culinary Festival
This year the festival will present an exotic array of international cuisines along with entertaining cultural activities, aimed at strengthening relations between Vietnam and participating countries.

The opening ceremony from 7 to 9pm on December 12 will be highlighted with a special presentation of cooking tips by Master Chef Martin Yan, who is well known on the US TV cooking show 'Yan can cook'. Some Thai Muay games will also take place later on the stage.
The following days will welcome cuisines from different countries. Vietnam will present the popular 'wrap and roll' dishes, of which the main ingredients are rice paper, a variety of meats, vegetables and select seasonings; and also the 'watermelon lantern'--a kind of watermelon shaped to look like a lantern and lit at the festival. 

South Korea will present their Topokki dish--a braised dish of sliced rice cake, meat, eggs and seasoning; and kimchi--fermented vegetable with a variety of seasonings.

Other countries also promise to flavor the festival with their best and most popular dishes.
An exclusive cooking contest titled 'Five-star Chef' will challenge   contestants from participating countries to prepare five dishes for a Christmas meal.  

The festival comprises of 88 food and beverage booths.

The event this year is being co-organized by the HCMC Department of Culture, Sports and Tourism and the HCMC Tourism Association.

The festival has brought in cuisines from 18 countries, namely, India, Thailand, Japan, Indonesia, Malaysia, China, Laos, Philippines, France, Italy, Russia, Germany, U.S, Mexico, Brazil, Australia, New Zealand, South Korea and Vietnam.