More than 300 painting of landscapes and ethnic peoples in the North by famous artists are on display at an exhibition that opened in Ho Chi Minh City on December 17.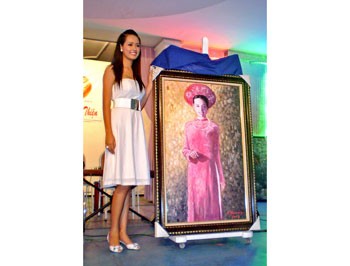 The 2006 Miss Vietnam Mai Phuong Thuy attended an auction of two paintings on December 17 to raise funds for a HCMC handicrafts school for disabled and orphaned people.
"Ripe spring" features works by Nguyen Le Dung, Bui Suoi Hoa, Cao Thi Duoc, Do Lenh Hung Tu, Nguyen Trong Muoi, Vu Hai, Nguyen Thi Tam, and several young artists like Nguyen Dinh Hien.
But its highlight is 48 oil paintings by poet Le Minh Quoc.
Still-life paintings and portraits of ethnic peoples evoke a feeling of optimism and freshness ahead of spring in a few months' time.
The exhibition, on show at the Fine Arts Museum, will go on until January 16.
Another panting display titled "Teacher and student" opened the same day at Ben Thanh Theater in District 1 to raise funds for upgrading the city-based Nhan Tam handicrafts school for disabled and orphaned people.
It features works by Truong Han Minh, Nguyen Thi Tam, Nguyen Nhu Khoi, Dam Thuy, Nguyen Tuan, and Huy Ban.
Nearly US$4,000 was collected from the auction of oil work "Portrait of 2006 Miss Vietnam Mai Phuong Thuy" by Le Phuong and embroidered painting "Joining hands" by Ngo Phuong Nam and Huynh Thi Yen.
A calligraphy exhibition featuring more than 200 works is being held by the HCMC Youth Cultural House and Net Viet calligraphy club.
The display at the Cultural House will go on until December 21.