15 kylin, lion and dragon dance clubs from district 5 will perform in shifts at the District 5 Culture Center until February 9, the People's Committee of District 5 said Saturday. The 9th also marks the Chinese Lantern Festival, fifteenth day of the new lunar year.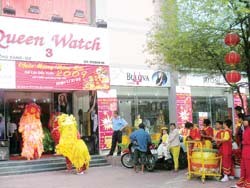 A Kylin performance at the official opening of a shop in district 5 (Photo: SGGP)
Each club will perform on two nights free of charge, the committee affirmed. 
This year, clubs like Kim Long Phuoc Kien, Nhon Nghia Duong, Lien Huu Duong and Thang Nghia Duong will present new dances, including 'Song long xuat hai' ('Two dragons together fly out of the sea'), 'Bac Su' ('Lion in the north'), 'Hoa trang binh tom tuong ca' (Disguise themselves as legendary shrimp and fish soldiers in the Sea Kingdom), 'Da sap Mai Hoa Thung' (Use legs to break the Pillars of Meihua) and many more.  
During the Lantern Festival, teams will come together before marching from Tran Hung Dao Street, along Chau Van Liem, Lao Tu, Nguyen Trai Streets and finishing at Nguyen Tri Phuong Street. 
The Chinese clubs in Cho Lon residential area donated VND400 million ($22,800) to help two kylin, lion and dragon dance clubs, Nhon Nghia Duong and Kim Long Phuoc, entertain the poor in the Central Highlands.   
Moreover, some Chinese clubs like Nghia An, Tue Thanh, Nhi Phu and On Lang have also invited some dance clubs to perform and entertain the Chinese community. 
These dances will continue until the end of the first lunar month, February 24.