The War Remnants Museum in Ho Chi Minh City has been ranked 5th among 25 most attractive museums in Asia, according to TripAdvisor, the world's largest travel website.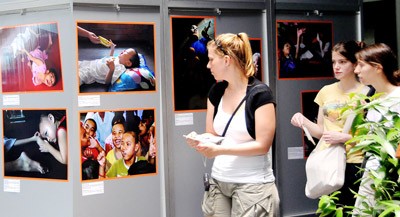 Visitors look at pictures exhibited at the War Remnants Museum. (Photo: SGGP)
Earlier in 2012, the museum was voted 10th from among the most attractive museums in Asia by TripAdvisor.
Established in 1975, the War Remnants Museum on 28 Vo Van Tan Street in District 3 in Ho Chi Minh City displays documents, photos and artifacts which are shocking evidence of atrocities committed by foreign aggressors during Vietnam's two wars.
Exhibits include collection of American weapons; model of the notorious tiger cages where Vietnamese revolutionaries were kept; photographs that illustrate the effect of Agent Orange and other chemical defoliant sprays, napalm and phosphorus bombs on the Vietnamese people and land.
The War Remnants Museum receives about 500,000-700,000 local and international visitors each year.
On the other hand, Vietnam Museum of Ethnology in Hanoi was ranked 6th among the most attractive museums in Asia and received a Certificate of Excellence from TripAdvisor. The Museum received 500 votes for excellence, 357 votes for very good, and most attractive destination in Hanoi by visitors.