With Christmas and New Year holiday season round the corner, cinemas across the City are preparing to screen a series of Hollywood blockbusters and Vietnamese comedy films to entertain young and old alike.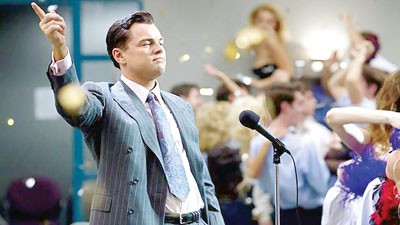 'Wolf of Wall Street' starring actor Leonardo DiCaprio
A Comedy Film Festival titled 'FunFest' will be held at BHD Star Cineplex at MaxiMark in District 10 and BHD Star Cineplex Icon at Hai Trieu Street in District 1 from December 13-19.
The funfest will present to audiences popular Vietnamese comedy movies including Long Ruoi, De Mai Tinh (Deal with it Tomorrow), Cuoi Ngay Keo Lo (Married Now ), Co Dau Dai Chien (Battle of the Brides), and Nha Co 5 Nang Tien (Five Fairies in the House). The films have popular movie stars such as Johnny Tri Nguyen, Thai Hoa, Dustin Nguyen, Hoai Linh and Chi Tai.
'American Hustle' by director David O Russell featuring Christian Bale, Amy Adams, Jennifer Lawrence, and Bradley Cooper tells about a political corruption based on the Abscam scandal of the '70s.
'The Hobbit-The Desolation of Smaug' is a Warner Bros' 2013 epic fantasy adventure film. It is the second installment of a three-part film series based on J. R. R. Tolkien's 1937 novel The Hobbit, beginning with An Unexpected Journey (2012).
'The Past' directed by Iranian director Asghar Farhadi is about a divorce and the rights of Muslim women
'Saving Mr Bank' starring Emma Thompson, Tom Hanks, Paul Giamatti, Jason Schwa is directed by John Lee Hancock and produced by Walt Disney Studios. The film depicts the two-week period in 1961 when Travers, the author of 'Mary Poppins' visited Los Angeles and reflects on her difficult childhood while meeting with filmmaker Walt Disney during production for the adaptation of her novel 'Mary Poppins'.
'Wolf of Wall Street' directed by Martin Scorsese depicts the true story of a wealthy New York stockbroker named Jordan Belfort, portrayed by veteran actor Leonardo DiCaprio.
'The Invisible Woman' is a feature film about the relationship between Charles Dickens and Ternan, who was an English actress and known as the mistress of the famous English writer.