Hoi An Cultural Day will be celebrated from February 10-12 at the Ky Hoa Tourist Area in District 10 in Ho Chi Minh City, which will include a series of cultural activities such as a photo exhibition on Hoi An ancient town, musical performances and folk games.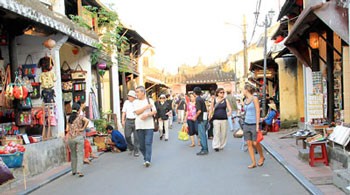 Tourists visit Hoi An Ancient Town (File photo: SGGP)

The organising committee will hold a traditional ancient town night that usually takes place on day 14 and 15 of the first lunar month of the year; put up ancient architectural sculptures and present special cultural activities of people of the central province of Quang Nam.
'We hope to bring Hoi An closer to people in Ho Chi Minh City, who do not have a chance to visit Hoi An but want to learn about the culture of Quang Nam and Hoi An. In addition, the event will be a chance for Quang Nam people who are living in the city and could not return home for Tet. We also send a message to the young people of Hoi An, who have left their hometown for study and work, that we always need young intellectuals to return and develop their hometown,' said Nguyen Su, secretary of the Hoi An Party Committee.
Hoi An will celebrate its 13th anniversary of UNESCO recognition in 2012. The local authorities will focus on developing culture, tourism and the environment to make Hoi An become the first park city in the country by 2030.
The city will also develop its economy and create advantageous conditions for outside investors.
According to the Hoi An Tourism Department, the town received more than 1.2 million visitors on 2011 and greeted about 5,000 tourists during this Tet Lunar New Year.