The Southern Amateur Music Festival themed 'Golden Lotus' will be held from August 4 at the headquarters of Voice of Ho Chi Minh City's People.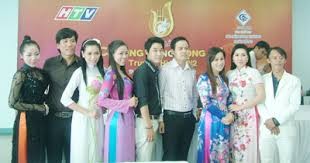 Candidates of the 8th Cai Luong singing contest (Photo: SGGP)
The Golden Lotus Award attracts around 300 artists from 27 art troupes in districts in the city. Performances honor the Party, President Ho Chi Minh, love for the country, Vietnamese people, and soldiers, while also recognizing the achievements in economy, culture and society.
The final round and awards ceremony will take place at September 23rd Park on December 31 and broadcast live on HTV9 channel.
The event will be co-organized by Voice of Ho Chi Minh City's People and Ho Chi Minh City Cultural Center.

On the other hand, the 8th Cai Luong Song Contest will be organized by Ho Chi Minh City Television in Hanoi, Nha Trang City, Bac Lieu and Long An Provinces on August 1.

The jury narrowed down from hundreds of contestants to just 12 in the final round which took place at the HTV Theater in HCMC on September 26.

The organizers will award prizes to winners, including Golden Bell Award worth VND50 million, the Silver Bell Award worth VND30 million, and minor titles such as Audience Choice, Jury's Choice and Most Favorite Contestant.
In addition, the Mekong Delta province of Bac Lieu has been given the nod by the Prime Minister to host the 'Southern Amateur Music Festival 2014'.

This will be a significant event for the province, the birthplace of 'Da Co Hoai Lang', an immortal Cai Luong piece written by musician Cao Van Lau in 1919, which tells the story of a wife waiting for her husband to return from the battlefield.
Many artists and musicians from 'Don Ca Tai Tu' troupes from neighboring cities and provinces will take part in the event.

The festival aims to keep the tradition of Cai Luong alive in the community and foster a love for this particular kind of music among the people.
On this occasion, UNESCO will give a certificate recognizing 'Don Ca Tai Tu' as an Intangible Cultural Heritage.