A ballet concert will be held at Ho Chi Minh City Opera House by the municipal Ballet Symphony Orchestra and Opera on July 9.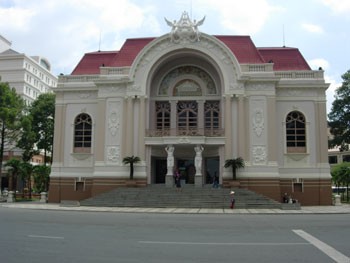 Ho Chi Minh City Opera House (Photo: KK)
Dancers and musicians will perform works such as Bong cuc trang (White daisy) by Tran Manh Hung, Truong Son (Truong Son mountain range) by Vu Viet Anh, Lan gio nhe bay (A gentle breath of air) by Nguyen Manh Duy, Mong moi (Be in hope) by Nguyen Do Anh Tuan, Guom than (Deity lord) by Do Kien Cuong, Tinh yeu va su doi tra (Love and lie) by Tran Dinh Lang by Vietnamese and western musical instruments.
Music lovers will have also a chance to enjoy a ballet titled Danh mat va tim lai (Lost and found) as it will be introduced for the first time in the event.