Immortal symphonies composed for the piano and violoncello, by the Finnish composer Jean Sibelius, will come alive at the concert "Sibelius" on May 20 in Hanoi.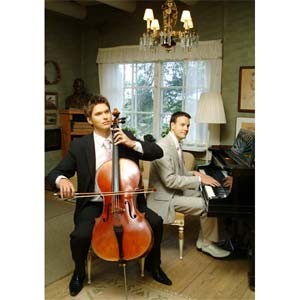 Jussi Makkonen (L) and Rait Karm (Photo: Courtesy of Finland Embassy)
The duet, cellist Jussi Makkonen and pianist Rait Karm, will help the audiences feel and understand the composer's music.   
Rait Karm, 37, began his studies on the piano at the Tallinn Music School, Estonia, where he studied under professors E. Saviauk and I. Ilja, while Jussi Makkonen, 30, was brought to public notice in Finland when he won the national EBU competition in 1996 
Rait has performed widely as a soloist, chamber musician, and pianist in Finland, Estonia, Germany, Switzerland, Austria, Italy, Hungary and the Czech Republic.  
Jussi has impressed audiences at  many of the world's most illustrious venues: the Musikverein in Vienna, the Royal Albert Hall in London, the Concert Hall in Stockholm and the Cité de la Musique in Paris. 
The two musicians met together and later released two collaborations, including Masterpieces for the Cello and Sibelius. 
The performance begins at 8pm at the L'Espace of the French Cultural Center, 24 Trang Tien.