A guitar concert celebrating the 170th death anniversary of Spanish guitarist and composer Fernando Sor (1778-1839) will be held in Ho Chi Minh City on December 30 and January 5 and in Ha Noi on January 13.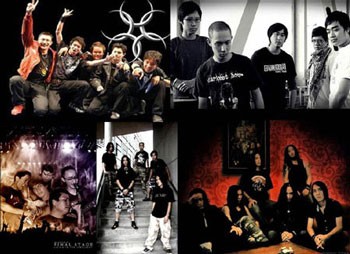 Five rockbands will take part in the White Rock concert.
Taking the stage will be well-known guitarists like Tran Hoai Phuong, Nguyen Thanh Huy, Huynh Ba Tho, and Le Hoang Minh and other members of the HCMC Conservatory of Music and Phu Nhuan District's Guitar Club.
They will perform some of Fernando Sor's masterpieces and also classical works by other Spanish composers like Moreno Torroba and Mario Castelnuovo-Tedesco.

The concerts will be held at the Cultural Center in Phu Nhuan District in HCMC and at L'Escape in the capital.

Rock fans will have a chance to usher in the New Year with a concert titled "White rock" on the eve at Ha Noi's Giang Vo Exhibition Center.
Five rock bands -- Ngu Cung, Nuranium, Final Stage, Black Infinity, and Titanium -- and rockers Nguyen Bao Anh, Nguyen Chinh Cuong, Tran Minh Khoi, Ly Hoang Nguyen, Hung Cuong, Duc Long and Minh Duc will perform Progressive, Metal core, Ballad Metal, Power Metal, and Death Metal.