Over the years, several 'Tuong' theatre companies have had to close down from lack of patronage, but the Ho Chi Minh City Classical Theatre is still struggling to make both ends meet and preserve the traditional classical 'Tuong' or 'Hat Boi' form of musical drama alive.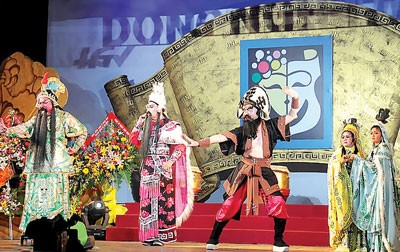 Several 'Tuong' artists are struggling to preserve the classical art form (Photo: SGGP)
Every year, the theatre stages over 30 free shows and 70 paid shows, reaping in a mere VND8 million (US$381) per show.
The meagre earnings pay for the costumes, stage decorations, artists, musicians and backstage workers. Since 2000, each artist has only been receiving VND45,000-100,000 per play.
Besides a small fixed salary, several artists earn less than VND1 million a month. As a result, they have been forced to do part-time jobs like assistants to masons, electricians or have opened restaurants or hairdressing saloons.
However, despite earning paltry sums, the theatre artists still maintain their love for classical theatre. Senior artists have also taken great pains to train young artists in recent years.
Outstanding young artists like Anh Thy, Bao Chau, Minh Khuong and Thanh Binh, have not just talent but also a passion and zeal to preserve and develop the traditional classical 'Tuong' form of theatre.
Meritorious artist Phan Ngoc Nga, director of the Ho Chi Minh City Classical Theatre said that they desire to have a new stage set for their performances now, as their current one is in bad shape.