The Derry- Londonderry- Doire team from North Ireland winning the seventh leg of Clipper 2015-2016 Round the World Yacht Race arrived in Han River of Da Nang city at 9: 15 am on February 17.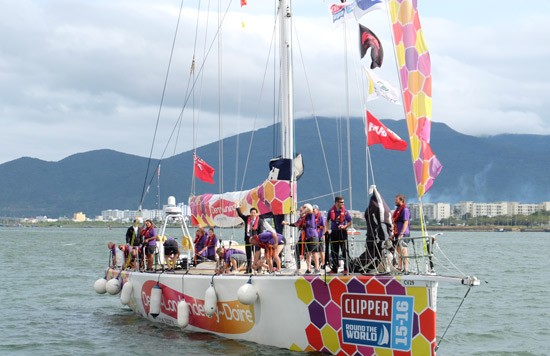 Leaders of Da Nang city pose photo with crew members of Derry- Londonderry- Doire team.
Da Nang municipal Party Committee Secretary Nguyen Xuan Anh and Chairman of the People's Committee Huynh Duc Tho had a receipt with the winner at the city's port bridge.
On the same day, the team of Da Nang New Discovery of Asia Race consisting of 58 crew members from 12 countries and territories also arrived in Han River at 2: 15 pm.
At the welcome ceremony, Captain of Derry - Londonderry – Doire team Smith Daniel shared: "We have experienced the long journey with 40,000 nautical mile Clipper race accompanied with the severe weather condition of strong wind speed sustain and thunderbolt from Australia to the South East Asia".
Chairman Tho expressed this year is the first time that team from the coastal central city of Da Nang participated in the Clipper Around the World Yacht Race. The city prepared well activities to welcome crew members & help regional friends learn more about culture and people of Da Nang city".
"With your experiences at Da Nang, we hoped international friends will be ambassadors to connect and advertise the beautiful city to global friends", added Huynh Duc Tho.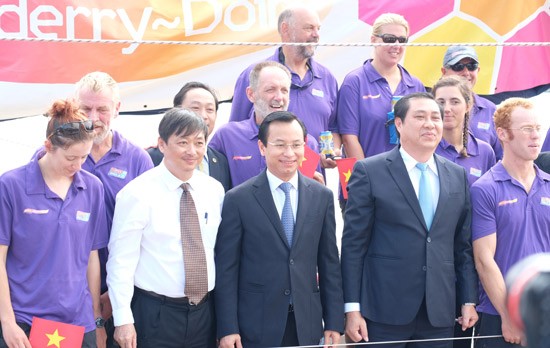 Leaders of Da Nang city pose with crew members of Derry- Londonderry- Doire team.Sailing boat of Derry- Londonderry- Doire team arrives in Da Nang city.
The Clipper race attracted the participation of 12 teams; and Da Nang team was ranked the sixth position. During the visit to Da Nang, crew members, friends and crew families of 12 teams will have opportunities to enjoy culture, sport activities in the beautiful city such as fishing praying festival, walking in bare feet on beach, kayak boat race, visiting children at the care of the Social Sponsor Center of UNICEF, traditional art performances and local cuisine.
The Clipper Yacht Race is one of the most competitive and challenging sports activities in the world and becomes the world's longest ocean race.
The sport competition was launched by Robin Knox-Johnston, the first person to sail single handed and non-stop around the world in 1968 – 1969.