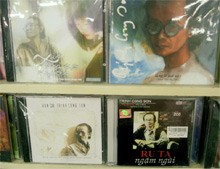 Many Trinh Cong Son's CDs are still on sale in the shops. Photo: Kim Khanh

A concert to mark the 5th anniversary of the late musician Trinh Cong Son's death is to be organized at Binh Quoi tourist area, Binh Thanh District, Ho Chi Minh City, on the evening of March 31, 2006.

The performance is named as "Hang Cay Thap Nen"  (Candle Mirage of the Tree Lines)  with the performances of artists Lan Ngoc, Bao Phuc, Khac Dung, Hong Hanh, My Hanh, Ho Quynh Huong, Duc Tuan, Thuy Duong, Thuy Long, Thuy Tien, MTV band and blind students of Nguyen Dinh Chieu school.
3,000 invitation tickets were given out for free. The performance aims to honor the great musician whose songs have won the hearts of so many fans for generations.