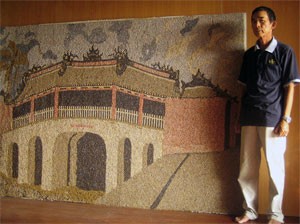 Mr. Lu Ngoc Nam and his shellfish painting

The famous shellfish artist Lu Ngoc Nam has just completed a 2.5-meter by 1.7-meter picture made of five million tiny crustaceans.


Mr. Nan spent two months creating the largest-ever piece of shellfish art and has registered it for inclusion in the national book of records.
The picture of Chua Cau (Japanese Bridge) in Hoi An, Quang Nam province was commissioned by the Viet Books Company and An Ninh The Gioi newspaper and will be auctioned for charity.