A special art program named "Cong ly cua trai tim" (Justice of the Heart) was held on August 9 in Ha Noi to call for physical and spiritual support for Agent Orange (AO) victims in Viet Nam.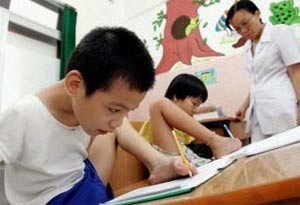 With support from communities, Agent Orange children victims can fall in line with daily activities.
The program, which took place at the Ha Noi Friendship Cultural Palace on the eve of the Day for Vietnamese Agent Orange (AO) victims August 10 (Thursday), was the second of its kind to raise support for the AO victims' on-going lawsuit against US chemical companies.

A documentary called "Paths to Justice" by director Lai Van Sinh was aired to recount the audiences about the heavy consequences left by the war, especially on Vietnamese AO victims who have been struggling in pain through life.
The "Justice of the Heart" art show portrayed mothers' special love towards their deformed children born from their AO-affected fathers as well as their friendship with normal children.
The live-broadcast event also included a meeting where Professor Nguyen Trong Nhan, Deputy President of the Viet Nam Agent Orange Victims Association (VAVA) and Mr. Duong Quang Tuyen, an AO victim talked about their itinerary of the A/O victims' on-going lawsuit against US chemical manufacturers.
Particularly, two international volunteers of the AO victim assistance program , Ms. Edit (German) and Mr. John Blow (American), also appeared at the event to raise their voices in calling for support for AO victims.
Everyone, especially children, aspire and are determined to struggle for justice in the interest of the young generations. It is this message that the August 9 art performance wants to convey to the world, Professor Nhan said.
Over VND450 million, donated by various local and international organizations and individuals, was handed over to many Vietnamese victims.
On the A/O Victims Day, the VAVA has worked with its chapters in 30 cities and provinces across the country to launch a series of practical programs in support of victims.