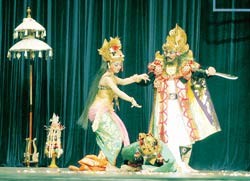 Sanggar Tedung Agung on stage in Ho Chi Minh City
The renowned dance troupe Sanggar Tedung Agung from Bali performed the traditional dances of the island's people in Ho Chi Minh City on Thursday to celebrate Indonesia's 61st Independence Day.
Led by veteran artist Tjokorda Artha Arddhana Sukawati, the performers from the Balinese town of Ubud included four young Vietnamese people who are studying there.
The show's organizers were the Indonesian Consulate General, the Ho Chi Minh City Department of Culture and Information, the Union of Friendship Associations and the Viet Nam-Indonesia Friendship Association.