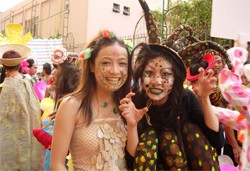 Students are preparing for parade (photo: K.K)
It is a famous festival in Brazil which dates as far back as the Roman Empire, with different names such as Carnivale (in France), and Carnival (in Australia). This is an opportunity for people to dress up, dance to live music, eat, drink and compete for prizes for the best costume, the best music band, etc.

An impressive parade was held in front of the An Dong Plaza on March, 16, 2006, the day prior to the party when a huge party will go on for two days, March 17 and 18, 2006.
Through the Carnival, Winsor Plaza is hoping to show to the public a distinctive version of Vietnamese Carnival.
There are three bands performing music, great costumes with colorful masks, magic shows, circus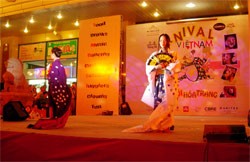 Fashion show (photo: K.K)
performers, acrobats, face painters, dragon dance.
Twenty huge masks have been created by local artisans, hung around the building to welcome visitors to the Carnival. A special fancy dress party is being presented by the students of Ho Chi Minh City University of Fine Arts.