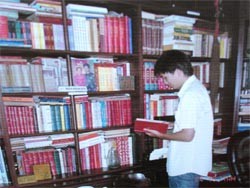 Tran Nguyen Giap and his first-prize book shelf in the competition. (Photo: VH)
A total of 11 book shelves wins the highest prizes in the "Family Book Shelf" competition.
The book shelf of Tran Nguyen Giap, with over 2,500 titles, is awarded the first prize. The rare books in his collection have been collected by four successive generations since the early 20th century.
The books of cultural, historical and religious topics are protected with hard covers and marked with the family book seal. Currently, he is doing a book digitalization project in a bid to build an electric library.
The second prizes are given to the book shelves of Pham Tien Cuong and Nguyen Thanh Loi.
Cuong started his collection in 1976 in Ha Noi to celebrate his 15th birthday. So far, his 30-year old shelf contains more than 6,000 editions, mostly art-themed.
The remaining runner-up prize is handed over to the owner of over 3,000 educational books. Being interested in cultural geography, Loi has collected thousands of books of geography, traditional culture, craft villages, and folk games.
Three other book shelves, which belong to Vu Anh Tuan, Pham Ngoc Nga and To Anh Chung, rank third in the competition.
Tuan's book shelf was started in 1954 with 70% of literary works, which are carefully chosen and preserved like precious souvenirs.
Meanwhile, Nga's informative books were collected by her father, most of which are of art and cultural themes.
Chung's 23-year old book shelf is of different topics, clearly categorized.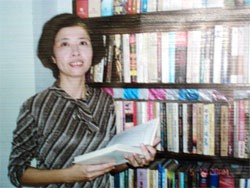 Ms. Pham Ngoc Nga and her book collection (Photo: VH)
In addition, the organizing board presents prizes to five book shelves containing precious editions.
Only sixteen book shelves in total entered the competition due to the shortage of time from both organizers and book owners.
Hopefully, the second "Family book shelf" competition will be extended to other provinces so that more valuable collections can be introduced to book-addicts.

The prize-giving ceremony was held on March 24, 2006.