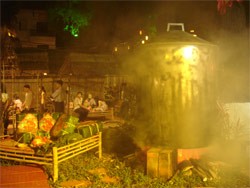 As many as 4,000 square sticky rice cakes are prepared as offerings to Hung Kings (Photo:VH)
On the occasion of anniversary for Kings Hung, the Kings Hung Temple Festival in Suoi Tien Park will begin with the procession of 36 groups representing fifty four minorities in Viet Nam.
Up to 4,000 square sticky rice cakes symbolizing 4,000 years of Viet Nam's national founding, locally known as Banh chung, are ready for the festive days.
These traditional cakes are indispensable offerings to honor the merit of the Kings Hung who taught people to plant rice. The cakes also remind people of Prince Lang Lieu who invented this kind of cakes.
Besides, many spectacular displays of music and dance will be held to depict the early history of Viet Nam .
The Hung Kings Temple Festival will be hosted in Suoi Tien Entertainment and Cultural Park on April 8, 2006.

The festival hopes to see the attendance of over 5,000 visitors.
Every year, on the tenth day of the third lunar month, the Hung Kings temples throughout the country swarm with pilgrims honouring Vietnamese ancestors.